Yard of the Month
The Yard-Of-The-Month (YOM) program has been established to recognize the efforts of residents within the Westfield Village community, whether they are homeowners or tenants, who demonstrate a clear and consistent desire to maintain or improve their respective properties above normal expectations. The homeowners association wants to give you the recognition you deserve for creating a beautiful, well-kept yard. This is a great way to improve the value of your home and make your neighborhood a better place to live.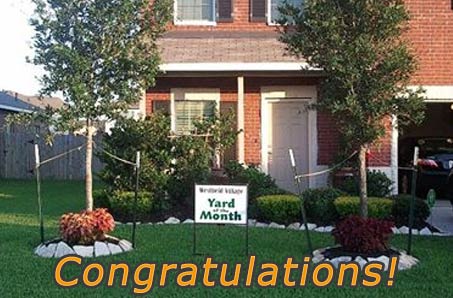 This Month's Yard Of The Month Winner
Rules:
Yard of the Month awards will be awarded for the months of May, June, July, August, September and October. A special Yard of the Month will be awarded for the best decorated yard at Christmas. Yards must be within the Westfield Village community. Potential YOM winners are judged solely on the total exterior appearance of their property and front yard as viewed from the street. No property may win yard of the month more than twice a year. Judging factors include the overall appearance, tidiness and neatness of the front of the property as evidenced by:
Pruned, trimmed and shaped foliage
Be willing to have photos of your yard taken and published on the website
Well-manicured yard, beautification, originality and creativity
Lawns, borders and flowerbeds edged and defined
It's the most visually appealing in the area
The flowers/shrub beds are edged and free of weeds
The roof, trim, siding, windows, and fencing are in resale condition and not in need of repair
Winners will receive:
A specially designed sign placed in their front yard until the announcement of the next month's winner
A $50 Houston Garden Center gift card
A picture of their front yard displayed on the Westfield Village CIA website
*Homeowners that are delinquent on their Homeowner's Association dues are not eligible to win.